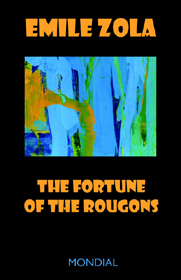 The Fortune of the Rougons
Novel by Emile Zola.
(The Rougon-Macquart Series.)

This is the initial volume of the Rougon-Macquart series. Though it was by no means Zola's first essay in fiction, it was undoubtedly his first great bid for genuine literary fame, and the foundation of what must necessarily be regarded as his life-work.
The idyll of Miette and Silvère is a very touching one, and quite in accord with the conditions of life prevailing in Provence at the period Emile Zola selects for his narrative. Miette is a frank child of nature; Silvere, her lover, in certain respects foreshadows, a quarter of a century in advance, the Abbé Pierre Fromont of "Lourdes," "Rome," and "Paris."
The idea of writing the "natural and social history of a family under the Second Empire," extending to a score of volumes, was doubtless suggested to M. Zola by Balzac's immortal "Comédie Humaine." He was twenty-eight years of age when this idea first occured to him; he was fifty-three when he at last sent the manuscript of his concluding volume, "Dr. Pascal," to the press. He had spent five-and-twenty years in working out his scheme, persevering with it doggedly and stubbornly, whatever rebuffs he might encounter, whatever jeers and whatever insults might be directed against him by the ignorant, the prejudiced, and the hypocritical. Truth was on the march and nothing could stay it... (Ernest Alfred Vizietelly)
---