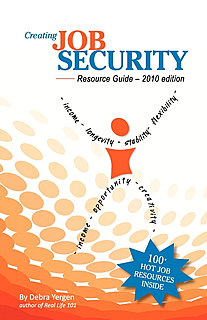 Creating Job Security.
Resource Guide.
2010 Edition
By Debra Yergen
This conveniently-sized guide includes well over 100 hot job resources, categorized by industry and featuring executive, general, freelance and stay-at-home Web sites. It introduces an exclusive scoring model for turning experience, education, talents, and tools into viable career and business opportunities. The Green Light Scoring Model™ enables readers to evaluate career opportunities based on seven pre-determined elements for success: Income, Opportunity, Creativity, Feasibility, Flexibility, Stability, and Longevity. This simple but powerful resource guide empowers readers to create a short list of ideal jobs for them right now, along with the critical Web resources matching hiring companies with skilled and talented job seekers.
In addition to the "Creating Job Security" series, Debra Yergen is the author of "Real Life 101" and a lecturer with Kaplan University. She has been published in more than 25 magazines worldwide and interviewed by USA Today, The New York Times, Reader's Digest, CareerBuilder.com, Yahoo! Hot Jobs, ABCnews.com, Payscale.com, and others about creating job security.
In India:
Flipcart.co.in
In Japan:
Amazon.jp