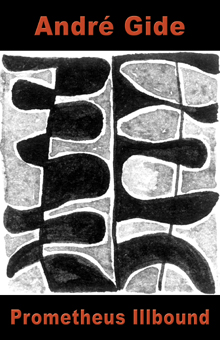 Prometheus Illbound
by André Gide
Novel
(French title: Le Promethée mal enchaîne)
The book "Prometheus Illbound" is one of the most characteristic books of André Gide: a work of pure intellectual fantasy, where the subtle brain of the author has full play. It is the expression of the humorous side of a mind which must be ranked among the greatest of the world's literature.
André Gide (1869 - 1951) was a French author and winner of the Nobel Prize in literature in 1947. Gide's career spanned from the symbolist movement to the advent of anticolonialism in between the two World Wars. Gide's work can be seen as an investigation of freedom and empowerment in the face of moralistic and puritan constraints, and gravitates around his continuous effort to achieve intellectual honesty. His self-exploratory texts reflect his search of how to be fully oneself, without at the same time betraying one's values...
His other works include: "Les Caves du Vatican" ("Lafcadio's Adventures"), "Les Nourritures Terrestres" ("Fruits of the Earth"), "La Porte Etroite" ("Strait is the Gate"), "L'Immoraliste" ("The Immoralist") and many others.
---