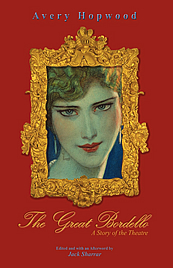 The Great Bordello.
A Story of the Theatre
Novel (1928 / 2011)

About the author:
Jazz-Age playwright Avery Hopwood (1882-1928), benefactor of the Avery and Jule Hopwood Awards Program at the University of Michigan, his alma mater, was the most successful playwright of his day, with four hits on Broadway in 1920 ("The Gold Diggers," "The Bat" and "Spanish Love" (both co-authored with Mary Roberts Rinehart) and "Ladies' Night (In a Turkish Bath)," co-authored with Charlton Andrews. "Getting Gertie s Garter, " "The Demi Virgin, " and "Naughty Cinderella" peppered other seasons.
Although Hopwood amassed a fortune writing these Broadway entertainments, his chief goal was to write a significant novel. "Something," he once told a newspaper reporter, "which an intelligent man can sit down and read and think about." "The Great Bordello," completed only days before his early death, was to be, he hoped, just such a work.


About the editor:

The editor, Jack F. Sharrar, is author of "Avery Hopwood, His Life and Plays" (UMI Press), and has adapted two of Hopwood's plays, "Fair and Warmer" (Playscripts, Inc.) and "Just for Tonight" (Playscripts, Inc.), in addition to F. Scott Fitzgerald's one-act play, "The Debutante" (Playscripts, Inc.). He is author of the play, "Up In Avery's Room," has contributed to Oxford University Press's "The American National Biography" and "The Gay and Lesbian Theatrical Heritage: A Biographical Dictionary of Major Figures in American Stage History in the Pre-Stonewall Era" (UMI Press); and is co-editor (with Craig Slaight) of numerous award-winning volumes of scenes and monologues for young actors (Smith & Kraus, Publishers).
He is Director of Academic Affairs for the American Conservatory Theater in San Francisco, where he also teaches, is a graduate of the University of Michigan, and holds a Ph.D. in theater history and dramatic literature from the University of Utah.