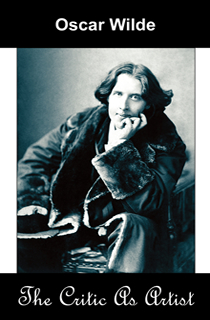 The Critic as Artist:
Upon the Importance of Doing Nothing and Discussing Everything
by Oscar Wilde
Essays

"Criticism is itself an art."
This is one of the singular arguments in what must be one of Oscar Wilde's most compelling critical dialogues ever published. The Critic as Artist explores Wilde's defense of criticism through sharp, witty dialogue and riveting, thoughtful arguments. This theoretical dialogue uses prime examples to discuss many elements, such as criticism as an art form, the true definition of a critic, criticism's value over art, and more. A special treasure for admirers of Wilde and a welcome addition to any bookshelf, The Critic as Artist exemplifies the playwright's witty look on the world and his true love of art.
About the author: Born in Dublin, Ireland in 1854, Oscar Wilde went on to become a prominent playwright, poet, and novelist all throughout the late Victorian Age. His many accomplishments in the field of writing have earned him praise as one of the most successful authors and playwrights of his era and beyond. He died in Paris in 1900 at the age of 46.