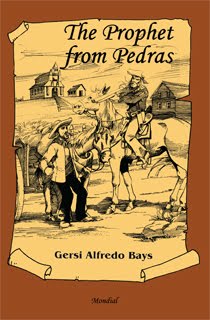 The Prophet from Pedras
By Gersi Alfredo Bays
This English version of the novel is a translation from Esperanto. Translator: Trevor Steele.
At the beginning of the 1930's, when the Brazilian version of fascism - the movement of the green shirts and the sigma symbol of the socalled "integralists" - appear in Southern Brazil, Ludvig Kapstein, a non-practicing Jew, decides to leave his city and move far away. He is nicknamed "Prophet" because of his long beard, his wisdom and his free spirit, and in the small town of Pedras somewhere at the Uruguay River, he finds his new home. Family, friends, his optimism and sense of innovation help him become one of Pedras' most respected citizens, until one day bandits show up...
"The Prophet from Pedras" is humorous and tragic, full of the small and big stories life brings along. It was first published in 2000 under the title "La Profeto el Pedras" in the international language Esperanto and has been translated into Portuguese, Italian and Chinese. This English translation is by Australian writer Trevor Steele.
The author, Gersi Alfredo Bays (*1934), is a publisher of Esperanto literature and was the editor of the literary magazine Fonto. He was a member of the Academy of Esperanto.